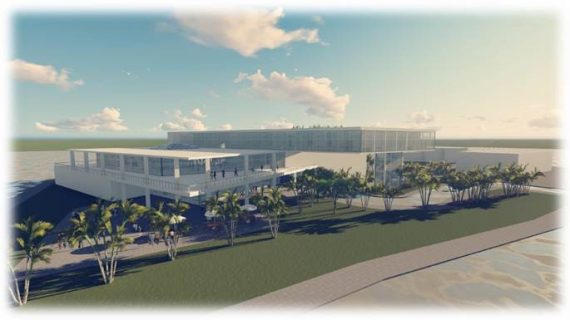 CasaCuba at FIU, a Cuban heritage center and think tank, recently received a check from the National Endowment for the Humanities (NEH) representing a $750,000 matching grant. The check presentation took place on Oct. 28 at the Frost Art Museum located on campus. Gathered for the presentation were members of FIU faculty along with CasaCuba leadership and local dignitaries committed to the initiative. Carlos Díaz-Rosillo, senior deputy chairman of National Endowment for the Humanities represented the agency. Other attendees included Agustín Arellano Sr., chair of construction firm NV2A Group, board chair of CasaCuba; Mark B. Rosenberg, president of Florida International University, congresswomen Donna Shalala and Debbie Mucarsel-Powell and former Congresswoman Ileana Ros-Lehtinen.
Florida International University presents CasaCuba to New York community at Cuban culinary celebration at renowned culinary institution James Beard House
In partnership with its Chaplin School of Hospitality and Tourism Management, FIU collaborated with the James Beard Foundation for a delicious and vibrant night of Cuban delicacies.  Award-winning Latin American and Cuban chefs - Guillermo Pernot, Fernando Saralegui, Mark Pauland Víctor Albisu – delighted guests with dishes reflecting Cuba's past, present and future, ranging from duck empanadas and suckling pig confit to polenta tamal and bananas foster.  
CasaCuba receives $750,000 from the National Endowment for the Humanities 
The National Endowment for the Humanities (NEH) announced that CasaCuba has received a $750,000 matching grant, which encourages additional private support. The funding will support the architectural design phase of the state-of-the-art center that will host lectures, academic conferences, community events, and digital and physical exhibitions intended to further the study and public understanding of the Cuban heritage.
Knight Foundation contributes $2 million to FIU's CasaCuba 
The John S. and James L. Knight Foundation followed up its seed funding of FIU's CasaCuba– an initiative to harness the University's Cuban cultural and scholarly resources – by announcing a $2 million grant.
Through the Círculo de Literatura Cubana Contemporánea, part of the CasaCuba at Books & Books initiative, readers will be invited to meet on the last Tuesday of every month to discuss books by writers who represent the contemporary Cuban literary tradition. The club's inaugural book list will be unveiled during a celebratory event at Books & Books in Coral Gables that will formally launch the initiative on Tuesday, Jan. 29, 2019. At the event, there will be special presentations including a reading by author and FIU alumnus Richard Blanco and an opportunity for participants to interact with other authors.
A place where our children, and their children, will learn about the history of our island and our cultural traditions. A hub of resources for the community to advance our education and professions. A meeting place for conferences, exhibitions, and artistic performances. The most consequential, global think tank focused on Cuba and the Cuban people.
That vision is CasaCuba. 
"I hope our gift will help provide a place where everyone can learn about and appreciate the unique, multi-layered Cuban culture and history. I'm looking forward to seeing this project develop into a true home for Cubans and a resource for our community and beyond."
-Agustín R. Arellano, Sr., co-founder and Chairman of NV2A Group, CasaCuba Board Chair
"I am honored to join FIU and lead an initiative that will consolidate the University's already prominent work in Cuban studies. Through CasaCuba, I am excited to engage the community to promote an even greater understanding of Cuba and preserve our extraordinary legacy for generations to come." 
-María Carla Chicuén, CasaCuba Executive Director
The initiative will harness FIU's prestigious scholarly and cultural resources to activate its extensive Cuban collections for scholars and the public, with the eventual goal of constructing a 50,000-square-foot facility on FIU's campus